In the last 10 days, China has been tightening its grip on the Internet, blocking several tools that allow users inside the country to escape and circumvent what's popularly known as the "Great Firewall of China."
Some popular Virtual Private Networks, or VPNs, were the latest victims of the sophisticated Chinese Internet censorship system, with several individuals and small businesses reportedly unable to use them in the last few days to connect to censored websites, or to use other blocked services like Gmail, Flickr or Twitter.
But not all hope is lost for Chinese users trying to get around the Great Firewall.
"It's wrong to report that all the VPNs have been shut down, and that all the circumvention tools have been shut down," Charlie Smith, one of the founders of the Internet censorship watchdog GreatFire, told Mashable.
In fact, the block has affected only popular, commercial VPNs such as Astrill, StrongVPN and Golden Frog.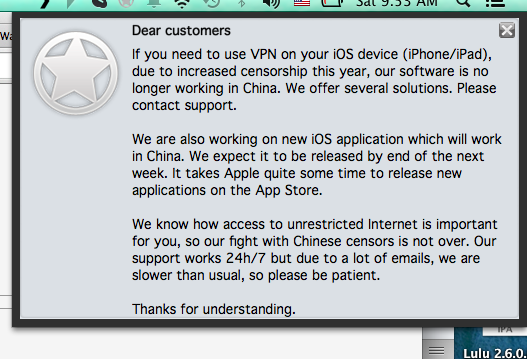 Other alternative, less widespread tools, such as Psiphon, Lantern, Tor, and other VPN services, in fact, remain active.
Moreover, on Friday, two of the affected VPNs announced that they were able to fight back and restore their services, at least partially.
Golden Frog announced it in a blog post, while StrongVPN confirmed it to Mashable via email.
Yet, China's new crackdown on circumvention tools is almost unprecedented, or at least the worst since 2012, according to Bill Bishop, an American who lives in Beijing and is the editor of the influential Sinocism newsletter.
"Their vision is to create effectively one world, two Internets", Bishop told Mashable, referring to the Chinese government, "where they have the Chinese Internet and they have the rest of the world. There are still links but they seem to be squeezing them tighter and tighter."
China seemed to confirm the crackdown on Tuesday, when Wen Ku, an official at the Ministry of Industry and Information Technology said that China "needs new methods to tackle new problems," and that the "development of the Internet has to be in accordance with Chinese laws," according to the government's People's Daily.