Stratolaunch -- which is designed to release rockets that will carry satellites into space -- has a 385-foot wingspan, features six engines used by the Boeing 747, stands 50 feet tall and can carry more than 500,000 pounds of payload.
And it has those 28 wheels.
The twin-fuselage aircraft, the baby of Microsoft co-founder Paul Allen, was pulled out of its Mojave Air and Space Port hangar in California to begin fueling tests -- the first of many ground tests. Jean Floyd, Stratolaunch's chief executive officer, said the goal is to have a launch demonstration as early as 2019.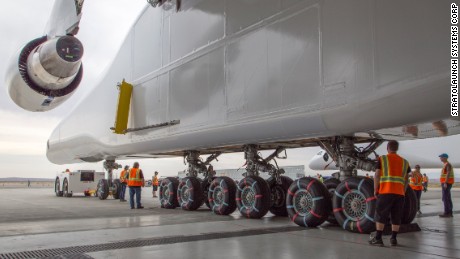 "Over the coming weeks and months, we'll be actively conducting ground and flight line testing at the Mojave Air and Space Port," Floyd said in a statement. "This is a first-of-its-kind aircraft, so we're going to be diligent throughout testing and continue to prioritize the safety of our pilots, crew and staff."
While the Stratolaunch has the biggest wingspan, the six-engine Antonov An-225 cargo jet -- which was originally designed to carry a Soviet version of the space shuttle -- is longer. Stratolaunch is 238 feet long while the length of the An-225 is about 275 feet.
Also, aviation mogul Howard Hughes' legendary H-4 "Spruce Goose," which flew only once in 1947, has an enormous wingspan of 320 feet -- not as wide as the Stratolaunch.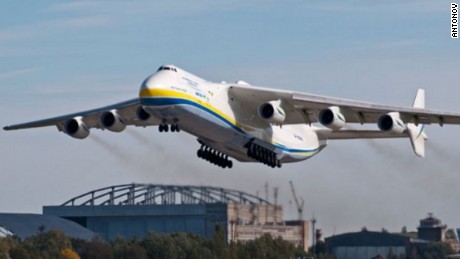 The Ukrainian-built Antonov An-225 is longer than the Stratolaunch.
Allen, owner of the NBA's Portland Trail Blazers and the NFL's Seattle Seahawks, has written about his desire to see more use of low Earth orbit without breaking the bank.
"With aircraft-like operations, our reusable launch platform will significantly reduce the long wait times traditionally experienced between the construction of a satellite and the opportunity to launch it into space," he wrote last year.
Stratolaunch will take off from a runway. It will fly to the approximate cruising altitude of a commercial airliner before launching a launch vehicle. "As the launch vehicle rockets into orbit, Stratolaunch will fly back to a runway landing for reloading, refueling and reuse," Allen says.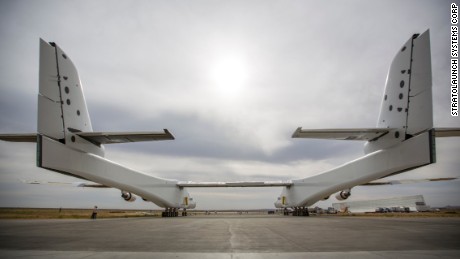 Allen's Vulcan Aerospace has worked with aerospace pioneer Burt Rutan's company, Scaled Composites, on the ambitious project.
The duo collaborated on the launch of SpaceShipOne in 2004. Allen isn't the only US billionaire with the dreams and pockets big enough to take on space.
Jeff Bezos, the Amazon CEO, and Elon Musk, the Tesla and SpaceX CEO, have distinguished themselves as the must-watch innovators pushing hardest to bring the future to us today. In late March, SpaceX made history by successfully launching a used rocket into space. And the company plans to fly two customers around the moon in 2018. It's already delivered satellites and has made resupply trips to the International Space Station.
Like Musk, Bezos wants to reuse rockets to drive down the cost of space travel. But for the time being, Blue Origin is mostly interested in conducting suborbital flights for tourists.
This article originally appeared at: http://www.cnn.com/2017/05/31/us/worlds-largest-airplane-rolled-out-paul-allen/.