Federal Communications Commission Chairman Tom Wheeler took a seat, grasped a set of controls, and guided an excavator — that happened to be 1,400 miles away.
By moving dirt in Dallas through a remote hook-up from the FCC's Washington offices earlier this year, Wheeler showed the promise of what could be the largest and most lucrative expansion of the internet yet.
The agency on Thursday took a major step toward boosting wireless speeds 10-fold by voting unanimously to open little-used airwaves to purposes as varied as remote surgery, lightning-fast video downloads and factory robotics. The network that will flow over the frequencies in the next few years will be known as 5G, or fifth generation, to succeed the 4G networks that carry music and movies to smartphones today.
"We're turning loose the incredible innovators of this country," Wheeler said just before the commissioners voted in Washington.
New Antennae
The airwaves involved were of little use until recently, because even though they carry a lot of data they don't travel far and can be stopped by walls or even by rain drops. Engineers have begun to figure out how to aim and focus the transmissions to overcome these frailties, sending signals to new types of antennae that resemble compact smoke alarms rather than roadside towers.
The promise is an abundance of speedy information shot across short distances and linking up without the tiny delays known as latency that can plague even 4G connections, such as the barely perceptible delay that can make voice conversations awkward.
"These are huge blocks of spectrum that will deliver amazing applications to Americans," said Meredith Attwell Baker, president of CTIA, a trade group for wireless companies including the top four U.S. carriers, AT&T Inc., Verizon Communications Inc., Sprint Corp. and T-Mobile US Inc. "This is a critical first step to ensure the U.S. is in a position to lead the world in 5G."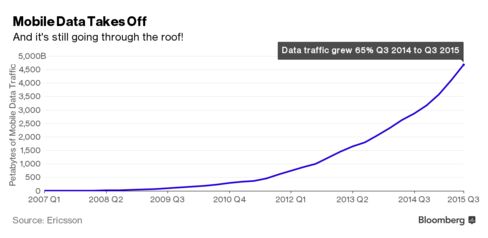 All four top U.S. mobile carriers have announced plans to test 5G technology, with partners including Cisco Systems Inc., Ericsson AB, Nokia OYJ, Qualcomm Inc. and Samsung Electronics Co. Connections are projected to double by 2020 and reach 500 billion 10 years later as more mobile devices, robots, light sensors and drones all become part of the so-called internet of things.
5G will feed massive machine-to-machine communications that will encompass "everything from smart homes to real-time cargo tracking to enhanced environmental monitoring and myriad applications yet to be conceived," Reed Hundt, a former FCC chairman, said in a filing. Hundt is on the board of Ligado Networks, the wireless company formerly known as LightSquared.
Super Fast
"We're talking about super-fast data rates, super-low latency: the kind of wireless any one would want that's only a dream today," said Dean Brenner, senior vice president for government affairs at Qualcomm Inc. The chipmaker based in San Diego, California, joined with Intel Corp., Verizon, Samsung, Nokia and Ericsson to ask the FCC to allow higher power for base stations than the agency initially proposed.
It's not entirely clear what uses may emerge, said Brenner.
"When we were devising 4G no one was thinking of Uber, no one in Washington was thinking of Snapchat or Instagram," Brenner said. "No one was thinking of Pokemon Go. The truth is, we don't know."
Qualcomm and competitors will work to deploy the technology as soon as possible, Brenner said. "This is going to be hyper-competitive, working with tremendous urgency," he said.
2020 Deployment
People in the field often talk of deployment by 2020, said Baker, the trade group leader. "We'll see what our companies can do," she said.
The FCC slated airwaves in four different swathes for use by 5G. Some airwaves are to be auctioned for exclusive use by winning bidders, and others — mainly in frequencies that travel less far than the auctioned airwaves — are to be shared.
Interests including Alphabet Inc.'s Google and the New America public policy group asked that more airwaves be offered for shared use.
Carriers that win at auction may have incentive to deploy 5G only in crowded urban spaces, leaving other areas without coverage, said Michael Calabrese, director of the Wireless Future Project at the Washington-based New America.
"Nobody really knows yet what 5G will be," Calabrese said. "But the carriers have decided they want to control access to this spectrum for whatever it is that develops."
This article originally appeared at: http://www.bloomberg.com/news/articles/2016-07-14/promise-of-5g-wireless-seen-in-long-distance-dig-before-fcc-vote